Post by DogGoneGood on Sept 5, 2008 0:58:47 GMT -5
The "All American Dog"
This article is reproduced from the Dog Gone Good Training website. It has been formated and updated to fit the Forum.
In the 1800's there was one dog known as the ideal, All-American Family Dog. This dog was extremely faithful, intelligent, loving, protective and powerful. These dogs were found in many American Family homes, curled up on the rug below their masters feet, at the end of a small child's bed; watching over them as they slept, or out on the farm protecting the family's livestock.
These sturdy, loving dogs came in all sorts of colours, sizes, and types. They weren't exactly your typical purebred dog with a particular breed standard which meant that no matter what you were looking for you could find it in this breed. But this breed wasn't bred for looks. They were bred for temperament and their great tenacious attitude. They were bred to be wonderful family pets, great guardians, and excellent farm dogs. When people thought of the ideal American dog, this dog came to mind.
They were so loved and cherished in America that they were not only used as family pets and farm dogs but were also used in war. One of the most versatile breeds out there, this was definitely a favorite among Americans.
"What was this wonderful breed?" you ask? Do you really want to know? Okay then, I'll tell you… but I can guarantee you probably will either be shocked and won't believe me, or already know exactly who I'm talking about if you know anything about this wonderful breed. I'm speaking, of course, about the…
American Pit Bull Terrier
Yes, I am correct. These dogs were once considered great family pets and were loved by almost all Americans in the 1800's.
So what happened? What changed? How did the APBT go from America's most wanted family pet, to America's most wanted criminal?
The dog's murky past as bull baiters and pit fighters was the initial catalyst in creating a world-wide feared breed of dog. Humans bred these dogs to be tough, vicious killers the world sees them as today. They were originally used on farms to bait bulls; which was a common practice in the 1800's. It then turned into a sport where people paid to watch these dogs bring down a bull. People who couldn't afford to watch such events had to turn to cheaper means of entertainment; Pit Fighting. This was when the dogs were pinned against each other in a bloody, brutal and disgusting "sport" that was considered as great entertainment. Why would people want to watch such a distasteful spectacle? I have no idea. Although after hearing of what cruel, abusive, sick and twisted acts humans are capable of not only towards animals but their own species as well it really doesn't surprise me.
The media was a huge turning point on how people viewed these dogs as well. APBT's used in bull baiting and dog fighting were bred to be animal aggressive; not human aggressive. There is actually quite the difference between human and animal aggression. While a dog can be both human and animal aggressive it is not always the case and just because a dog is one you shouldn't automatically assume they will be the other. Most Terrier breeds were originally bred to go after other animals (mostly small vermin) which has given them a natural animal aggressive tendency. This doesn't make them bad dogs at all. If your dog is animal aggressive it can be controlled and contained with the proper knowledge and effort. The problem is most definitely not the dogs themselves but was actually caused by humans. It is completely unfair to blame this wonderful breed for something we ourselves have done and created. The problem with the media is that they will do anything to grab your attention and make a buck or two. This includes twisting the truth. There are four things that grab most peoples attention and the media knows it; violence, sex, fear and celebrities. Telling you your next door neighbors dog has been genetically programmed to be a blood thirsty monster who's only goal in life is to devour your cat, small dog or God forbid your child is what the media does best.
Despite what you may have been told, this is just not the case. It was illogical to breed human aggressive dogs that were used in pit fighting because if you had to separate the two dogs (meaning actually being right in the pit with them and even touching them with your bare hands) the last thing you wanted was for the dog to turn on you. Dogs that did show signs of human aggression were culled (killed or not used for breeding). Knowing this, does it really make sense to believe that the APBT is a blood thirsty killer out for your child's blood?
Besides the media, another problem with the breed today is over population and being placed in the wrong hands. There are just too many ignorant people owning this unique breed and there are way too many people owning them for exactly the wrong reasons. There are too many people breeding them in extremely poor quality. These are, most often, the same people who are involved in illegal activities such as drugs and dog fighting.
The sad thing is that most people don't even know what a true APBT looks like. If you showed even 10 people the bellow pictures I doubt many would be able to guess which is the APBT. Can you?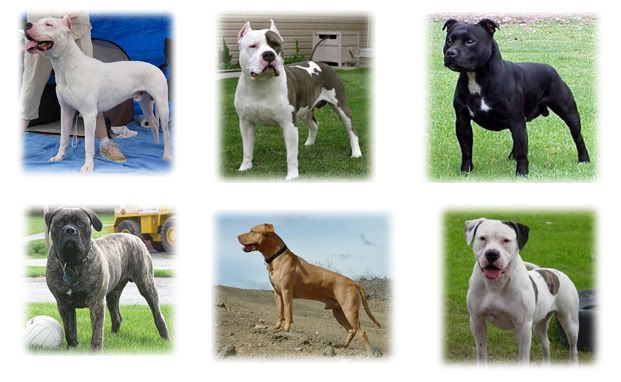 Did you make your guess?
It's the second from the right at the bottom…
Did you get it right?
If so, good for you! If not, you need to do a little more research about the breed.
In case you're wondering, from left to right in the first row it is… the Dogo Argentino, American Staffordshire Terrier and Staffordshire Bull Terrier. In the second row from left to right it is… the Bull Mastiff, American Pit Bull Terrier, and American Bull Dog.
These are all "Bully-Type Breeds" which means they each call for specific needs, understanding, training and care. Any owner of a Bully-Type Breed needs to first do their homework thoroughly before owning such a dog. My little test above may not seem to matter considering they are all breeds with shadey pasts, but my point isn't whether or not these dogs are for everyone and whether or not they are distinguishable amongst your average Labrador Retriever etc. This page is all about the American Pit Bull Terrier. A lot of people, including the media, are mislabeling dogs as APBT's which is causing a mass-fear towards the breed. My point was simply that a lot of people don't even know what an APBT looks like!
If you ask me, breed discrimination is no different than racism. It accomplishes nothing, it hurts those who actually care about the breed, and it hurts the breed itself. Breed Specific Legislation (BSL) is slowly taking over our "free" countries. BSL is completely useless and all it does is hurt the responsible people who own the breed. The people who have taken the time to educate themselves about how to properly care for and train the APBT. The people who love the breed, despite their bad history and reputation, and put the time and effort into owning one that is necessary to keep not only the dogs themselves safe but everyone (animals included) that live around the dogs home. The people who are poorly breeding, abusing, and training these dogs to be "blood thirsty killers" are the same people who are already breaking the law and therefore don't care about whether or not they're breaking any BSL laws either.
The only way we're ever going to win the battle against BSL is to stand together and educate the general public about these wonderful dogs. Educate our government and don't let them bully us and tell us what breed of dog we're allowed to even own! Don't believe everything you read in the tabloids, newspapers and on the internet about these dogs. Yes, there has been dog attacks and yes some of these attacks do involve the APBT. You have to understand where these dogs that have attacked are coming from (poor genetics etc.) as well as the fact that because hating the APBT is such a popular subject these days that you are more likely to hear about it than Cocker Spaniel attacks. Also, these dogs were bred to be powerful, strong, and to never give up. This means that if they do attack they can be very dangerous. This doesn't mean that every single APBT is dangerous though. They are a breed that needs to be respected and needs to be taken care of properly. Every breed or mixed breed of dog is capable of hurting a human being. They are, after all, animals. All animals need to be treated with a respect they deserve and it's always best to educate yourself about how to properly give such respect.
There are many great organizations out there dedicated to saving, rehabilitating, and rehoming these dogs as well as educating the public and fighting BSL. Please take a moment to view a few of such organizations and read the information they have available.
Knowledge is power and as humans we need to learn to use it properly. We need to learn to think things through before jumping to conclusions and acting on impulse. We need to understand that it is our job and responsibility to speak up for those who can't speak and to protect the planet we live on which includes all animal and plant life. We need to stop being idiots arguing with each other and we need to stand together to make a difference. If we don't breeds like the American Pit Bull Terrier will go extinct along with all the other species on this planet we have already wiped out due to ignorance.
American Pit Bull Terrier Rescue Organizations and General Information: